Petaluma Bicycle Accident Attorneys
Experienced Petaluma Bicycle Accident Lawyers Ready To Serve You
The city of Petaluma, CA, is a picturesque combination of a bustling hometown city and a sophisticated wine country. Petaluma residents enjoy activities like the Antique Fairs, the Art & Garden Festival, shopping downtown, or dining in one of our many incredible restaurants.
And in California, we are lucky enough to have great weather year-round, so more and more people are turning to their bikes instead of cars when moving around the town. It's a great way to get in exercise, take in the view, and enjoy the great outdoors on the way to where they are going. But accidents can happen. And if an accident happens to you while on your bike, your life can change in an instant.
So if you are on your bike and are injured by the negligence of another driver, you need to make a call to the experienced Petaluma bicycle accident attorney at Henderson Law. We can help get the recovery that you deserve for your injuries.
Bicycle Accidents Can Result in Greater Injuries
As more and more people are turning to their bikes for transportation, the number of accidents involving bicyclists is on the rise. According to the National Highway Traffic Safety Administration, there were 783 fatalities due to bicycle crashes in America in 2017. But there are far more injuries attributable to such crashes each year, and these numbers require some attention before you strap on that helmet.
Why? Because bicycle accidents have a tendency to injure the cyclist more than the driver. What would be a minor fender-bender in a two-car collision can turn into a near-fatal crash when it involves a cyclist. Even car collisions at lower speeds can land a cyclist on unforgiving cement pavement. With no metal surrounding you, and no airbags or other safety features that are built into every car, you are on your own. It's just you and the pavement, and more often than not, the pavement wins.
Let's take a quick look at the types of injuries that are common in bicycle accidents:
Spinal Cord Injuries
Traumatic Brain Injuries
Fractured Skull Injuries
Broken Bones
Fractured Bones
Friction Burn from the Road
Whereas simple broken bones may involve only a brief doctor's visit, a spinal cord injury can require major medical treatment for the rest of your life.
I've Been Injured in a Bicycle Accident, So What Do I Do?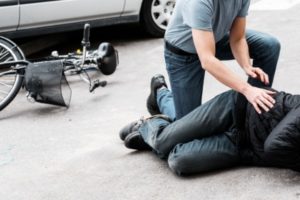 After sustaining such an injury due to the negligence of another driver, you need to act. Obviously, your recovery is of paramount importance. But the last thing you want is to recover from your injuries, physically, just to find out that you lost your job and have no way to pay your medical or other expenses that are piling up.
This is why contacting an experienced Petaluma bicycle accident attorney can make all the difference in the world. Our lawyer has been helping victims receive fair compensation for their accident-related injuries for over 20 years. He knows how to negotiate with insurance company adjusters, and they will not allow you to be taken advantage of. Here are some of the considerations our Petaluma bicycle accident lawyer can handle for you:
Getting accident reports and analyzing them – Someone must determine exactly what happened at the crash site. Allowing only the insurance company to do this assessment sets you up for an unreasonably low offer.
Locating and speaking to witnesses – Our injury attorney knows how to track down witnesses who can help with your case.
Analyzing forensics – If there is any forensic evidence involved in your crash, we know how to analyze the implications and even speak to the analyst, if needed.
Assessing present and future medical costs – We speak with your doctors to assess the future costs of your treatment. Even if you only have moderate injuries, you need someone who can accurately see into the future. If not, you may run out of money for your medical treatment with nowhere to turn for help.
Assessing lost income and future lost income – Physical injuries can make it difficult for you to return to your job after an accident. Sometimes this is a temporary hiatus, but other times your injuries can be so severe that you must change career paths entirely. We have the experience and expertise to properly assess whether or not you can return to work and what the costs will be to you to re-enter the workforce after an extended period of healing.
Negotiating a proper settlement with the insurance company – We know what wins and loses in court, so we know how to firmly communicate that to the insurance company. We will never allow them to low-ball one of our clients.
If necessary, we know how to take your case to trial – and win.
If you have been injured in a bicycle accident, call the Petaluma bicycle accident lawyer at Henderson Law or contact us online to schedule an appointment. We also handle other personal injury cases such as trucking accidents, motorbike accidents, auto accidents, or product defects.